5 Fun Ways To Celebrate "Holy Week" In Your Classroom
Holy week, or Semana Santa, is one of the most important celebrations in the Hispanic world –  which is why it is a great holiday to learn more about to build your students' global awareness. Find out more about this festival and explore five fun ways to address it in your classroom.
What is Holy Week?
Holy Week is a commemoration of the Resurrection of Christ, celebrated by Catholic Christians globally. In the Hispanic world, Holy Week is a very important celebration, given that most Spanish and Latin-American people see themselves as Catholics. Commemorating and reflecting on the life, death and resurrection of Jesus Christ not only celebrates their faith, but provides an opportunity to spend time with family, engage with the community, celebrate life and make new beginnings.
When is Holy Week celebrated?
It depends. Holy Week is celebrated every year over a week, however, the starting date changes according to the moon cycles and Spring Equinox. Easter occurs after the first full moon after Spring Equinox, therefore, Holy Week's date changes, taking place in either March or in April. e.g. Equinox on March 20th, full moon on March 28th, Easter on April 4th. 
The first day of Holy Week is Palm Sunday or Domingo de Ramos, when Jesus Christ's entrance to Jerusalem is celebrated. Mass and events are usually held at churches from Holy Monday to Holy Wednesday. Maundy Thursday or Jueves Santo is all about The Last Supper and foot-washing activities at church. Good Friday or Viernes Santo and Holy Saturday or Sábado Santo are days for quietude, reflection and prayer. Easter Sunday or Domingo de Resurrección, is a large celebration with music, pyrotechnics and various artistic activities, generally with no eggs or bunnies in sight, as these are not fully ingrained in the Hispanic tradition.
How is it celebrated?
Semana Santa is celebrated throughout the Spanish-speaking world, but also by communities of Christian-Catholics around the world. However, it is important to clarify that different communities have diverse ways of commemorating and celebrating this holiday. 
In the Hispanic world, Semana Santa is predominantly celebrated with processions, parades with floats, bonfires and masses. Communities in Iztapalapa (México), Cusco (Perú), Popayán (Colombia), Toledo and Sevilla (Spain) are famous for bringing the community together in their processions and re-enactments of the last moments of Christ's life and rejoicing in life and new beginnings. In general, this is a time for reflexion, prayer, renewal and family, all deeply linked to the religious aspect of the holiday. 
Nevertheless, Holy Week has become a time for relaxation, travelling and tourism. Several countries in Latin-America have a school break during Holy Week, providing an opportunity to disconnect from school and work. For instance, secular countries like Uruguay have rebranded Semana Santa as Semana del Turismo (Week of Tourism). Uruguay has a full week of activities, including gastronomic and music festivals, art exhibitions, jineteadas (rodeos), and even a cycling competition!  Similarly, Puerto Ricans visit the beach with family and friends, while Costa Ricans enjoy Chiverre (Tureng) and traditional foods reserved for this holiday.
5 Ways to explore Holy Week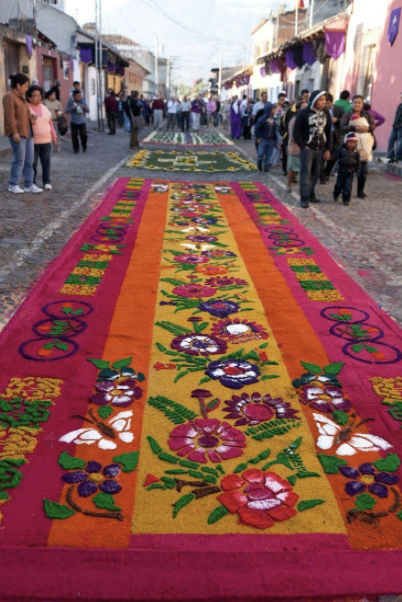 1. ¡Felices Pascuas! – Happy Easter!
Introduce a few words and expressions that students can use prior and during Holy Week. From days of the week, to decorations and traditions, students can match the words, complete puzzles, watch videos and complete quizlets with Holy Week and Easter terms and expressions in Spanish.
2. Alfombras: Colourful tapestries 
One of the most creative and artistic ways to celebrate Easter, is to create a colourful carpet in the streets. In the town of Cholula, Mexico, flower petals are used to create designs on the street, forming beautiful tapestries. Guatemalans in the city of Antigua bring the community together to create similar Alfombras, made with coloured sawdust and flowers. Explore how these pieces of art are made and how students can recreate them in the classroom using markers, paper, paint, etc. If possible, create real stencils and use paint to recreate the process of Alfombras making.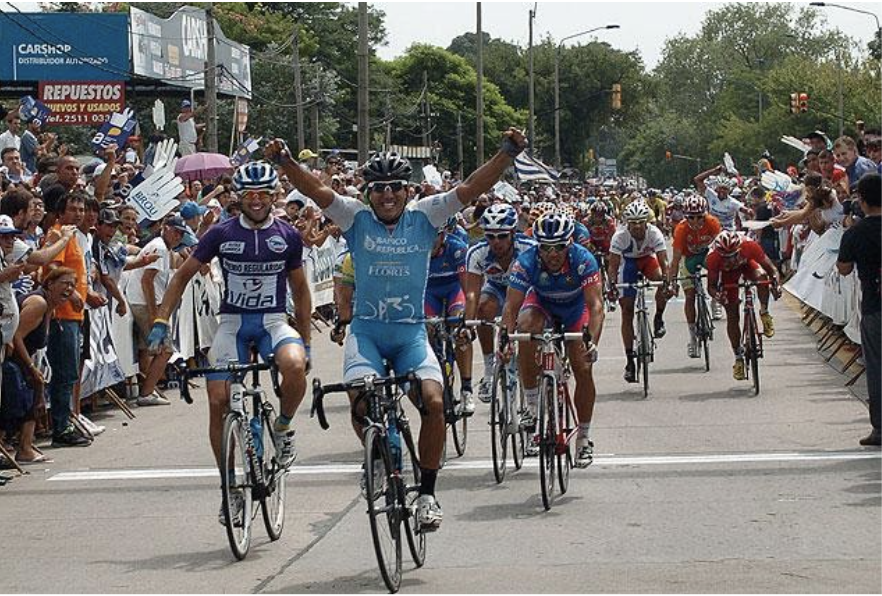 3. A different type of plan…
As well as being a religious celebration, Semana Santa is a time of relaxation and travelling for some countries. 
Review the activities previously mentioned, done in Uruguay, Puerto Rico, and Costa Rica and encourage your students to identify the activities which are different to those they know. This is a week to share with family and engage with the community, so guide them towards events that can be shared or experienced in the company of others.
4. Holy Week traditional foods 
All Hispanic major holidays have their own specialist foods and Holy Week is no different.  Due to religious beliefs, red meats are generally not consumed by most devotees, instead, grains, vegetables and white meats, particularly fish, are used in a number of dishes e.g. Peruvian ceviche, Spanish chickpeas and spinach stew, cod croquettes, Argentinian lenten empanadas, Brazilian feijoada (Black beans stew) and Ecuadorian fanesca (12 Grain Soup). Take a look at these recipes and attempt them with your students. Reflect on how they differ from their own cuisines and festival foods.
5. New me! 
Deep reflection and prayer are an essential part of Holy Week. It is an opportunity for cleansing and starting again. Hispanic communities clean their houses and churches during this holiday, as well as create bonfires to get rid of evil energies, such as burning Judas effigies in Venezuela, Spain and Mexico.
It is believed that cleaning, reorganising and/or discarding unnecessary items can free up physical and mental space. Taking a moment to meditate and be mindful of yourself is believed to be one of the first steps towards achieving your best self. Guide your students to reflect on their lives and what they would like to become in the future. Encourage them to think positively about themselves and set goals to achieve their aims in life.
Feliz Semana Santa y Feliz Pascua – Happy Holy Week and Happy Easter!
Global Learning Activity Cards – Hispanic Culture
Explore a range of additional activities linked to Hispanic culture with our ever-growing range of fun, cross curricular activities for all ages, from Prep to High School. From cooking, to arts, to making Maracas for music, there are activities for everyone!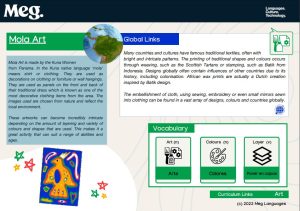 Note: Holy Week is a celebration for communities with certain beliefs. Ensure that you are aware of different religious affiliations in your class before proceeding with these activities.
10 March 2021 | Written by Paula Jiménez

Paula is the Program Coordinator and Curriculum designer of the Spanish Program for Meg. She has been teaching English and Spanish to students from Colombia and Australia for three years. She is passionate about languages, culture, and communication in context, which led her to complete a Master program in Applied Linguistics. Her interests include; intercultural communication, cultural linguistics and the greater role of technology in education. She can be found at Paula Jiménez.