Building Bridges: A Student-led Initiative for Expanding their School's BBIPOC Affinity Group
A Student Ambassador Program Case Study
"Don't stop believing in what you can accomplish."

– Michael, 2022/23 Global Citizenship Student Ambassador
Rocky Hill Country Day School is a private, Pre-K through 12th-grade school in East Greenwich, Rhode Island. They "prioritize hands-on experiential learning opportunities" and support students as they "actively engage in real-world problem-solving and critical thinking… to succeed and impact a complex world."
Rocky Hill's mission led them to join Meg's Global Citizenship Student Ambassador Program (GCSAP).
When asked why they wanted to participate in GCSAP, the school's Global Citizenship Student Ambassador Coordinator, Elaine Bernardino stated, "I was a community project coordinator at an IB school and I used design thinking for everything…and to have the opportunity to connect with other schools interested me a lot."
"Every time I would enter the space just to visit, it felt like it was a really student-owned, student-run space."

– Michelle Jones, Equity and Belonging Director
Achievements
The Global Citizenship Student Ambassadors successfully accomplished the following outcomes:
Examined the root causes of racism within their community
Raised awareness surrounding racism and educated the middle school community beyond Black History Month through regular meetings
Created a mission to inform the community about the harms of bias, microaggressions, and discrimination
Created a Middle School BBIPOCC Affinity Group that is student-led and facilitated
"At the beginning, I thought it was going to be a small change, but it actually made a huge deal in Middle School for us."

– K, 2022/23 Global Citizenship Student Ambassador
Project Description
Working alongside their school's Equity and Belonging Director, students worked to create a Black, Brown, and Indigenous People of Color (BBIPOC) Affinity Group within their middle school. This group will help to organize actions to educate the school community and beyond about the harm bias, microaggressions, and discriminations that exist in our world.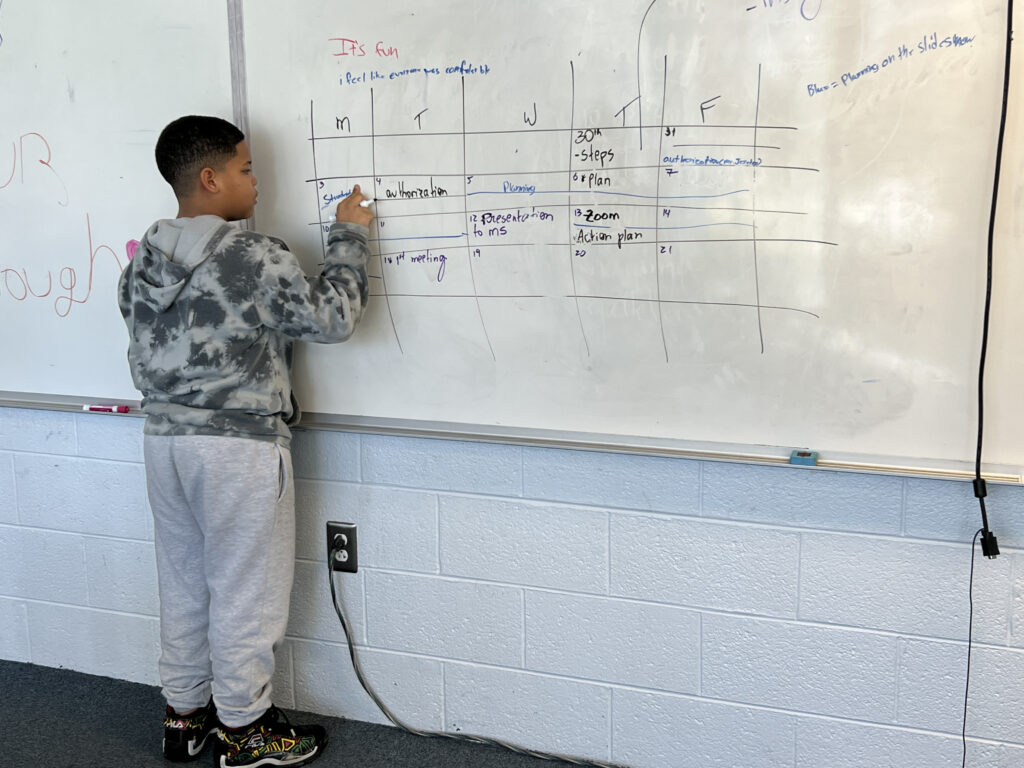 "Think about something that would be really big for certain people… think about a big problem."

– K, 2022/23 Global Citizenship Student Ambassador
Step 1: Engage with the School Community
Rocky Hill was fortunate to already have a BBIPOC Affinity Group at the upper school level and had the intention to launch one for middle schoolers in the future. However, Student Ambassadors saw that the need was more imminent and took it upon themselves to start now.
They worked with the Equity and Belonging Director at the school as well as other school administrators to determine what was needed. Student Ambassadors also leaned on their upper school counterparts – asking them for advice and support.
Step 2: Launch Middle School BBIPOC Affinity Group
As their planning took shape, Student Ambassadors made announcements during middle school community meets, designed posters, sent emails, and talked to other students about joining the BBIPOC Affinity Group.
All along the way, they kept in touch with the school administration to make time in the school's busy schedule for several BBIPOC Affinity Group meetings between the initial Spring launch through the end of the school year.
Upper school students, faculty, and administrators of color were often invited as guests. The Student Ambassadors created a safe and welcoming environment for these important conversations around equity to take place at their school
Step 3: Nurture the Next Generation of Student Ambassadors
These meetings also saw an uptick in attendance each week. Elaine noted, "Each week there are more BBIPOC students attending the meeting and elementary students are getting interested too."
The Student Ambassadors succeeded in making a hugely positive impact on their school community and developed a sense of pride for bringing the group to fruition.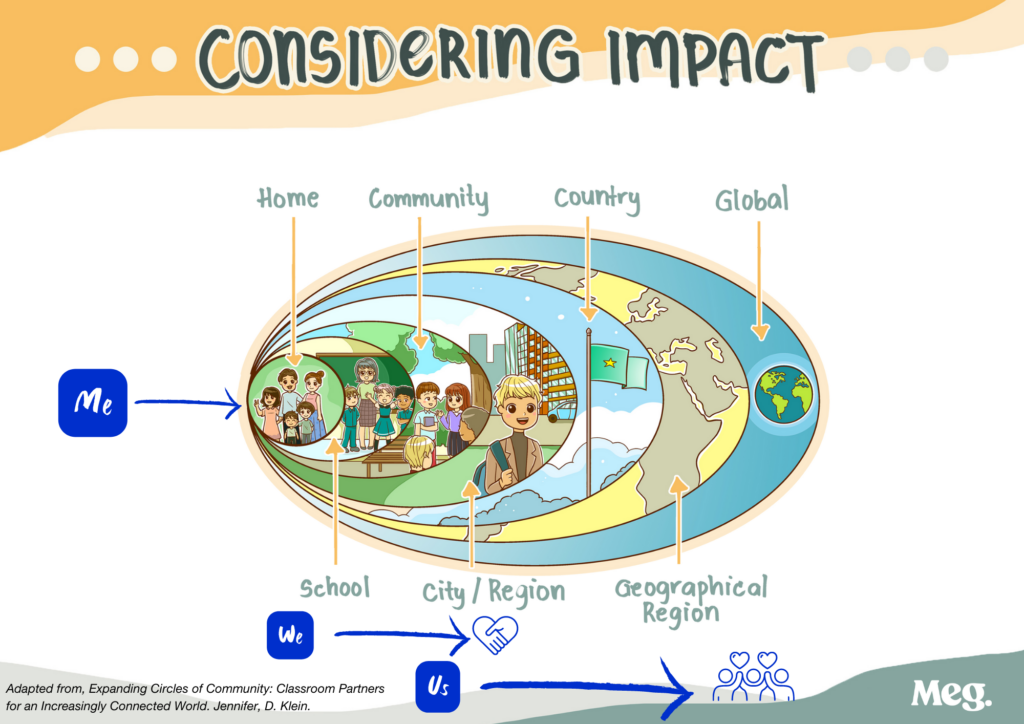 The UN Sustainable Development Goals
As part of the knowledge exploration on topics linked to Global Citizenship Education, the Student Ambassadors explored the UN Sustainable Development Goals. They identified the following goals linked to their own project:
Goal 3 – Good Health and Well-Being: Ensure healthy lives and promote well-being for all at all ages.
Goal 4 – Quality Education: Ensure inclusive and equitable quality education and promote lifelong learning opportunities for all.
Goal 5 – Gender Equality: Achieve gender equality and empower all women and girls.
Goal 10 – Reduced Inequalities: Reduce inequality within and among countries.
Goal 16 – Peace, Justice and Strong Institutions: Promote peaceful and inclusive societies for sustainable development, provide access to justice for all and build effective, accountable and inclusive institutions at all levels.
Goal 17 – Partnerships for the Goals: Strengthen the means of implementation and revitalize the Global Partnership for Sustainable Development.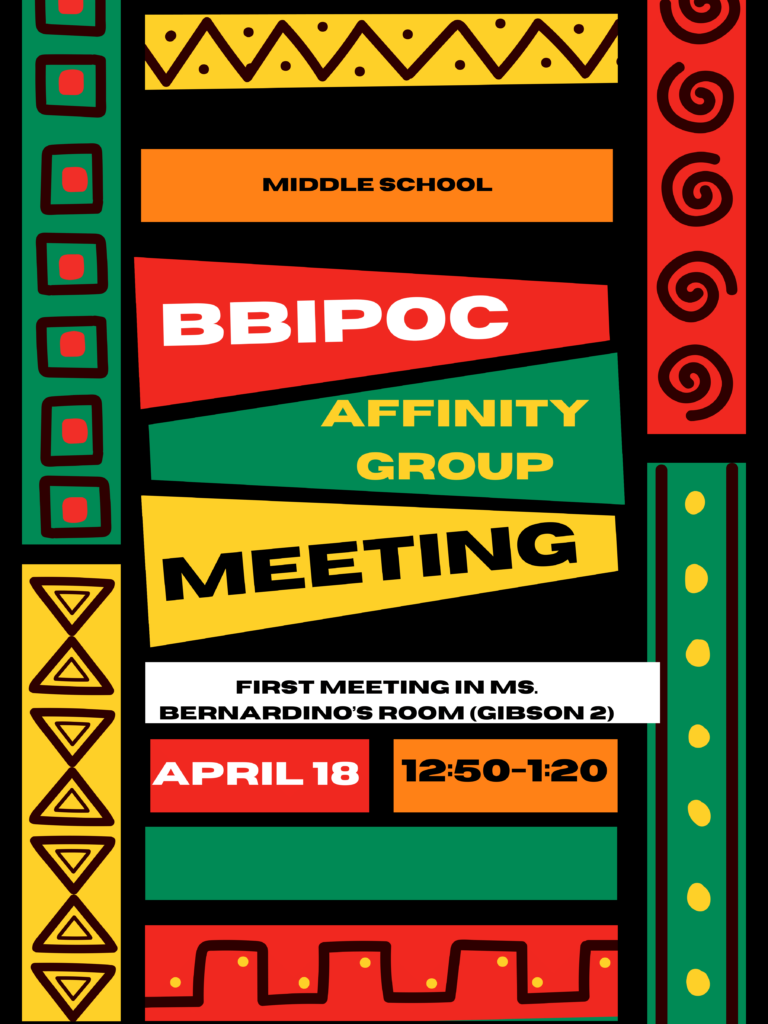 Project Outcomes
"They decided they want to keep the BBIPOC Affinity Group for the next year – I'm very proud of them. Thank you for this opportunity. I don't know if that would be possible without this program."

– Elaine Bernardino, Global Citizenship Student Ambassador Coordinator
1. School Community Outcomes
"The school community was very positive and the administrators were impressed because having a BBIPOC Affinity Group in [the middle school] was the plan for the future, but they needed it now," Elaine shared.
She also noted that other Rocky Hill teachers took notice – sharing that the students are cultivating more responsibility for their learning and developing their organization skills.
2. Educator Outcomes
Elaine recognized the importance of ensuring this work is authentically from the Student Ambassadors' perspective. "I tried to do something that is very difficult for a teacher – that's step back and let them do their work. I could see in these meetings that other students felt welcomed and really used this space for themselves," Elaine shared. She added that other students started to take notice, noting "they realized this is a space for them."
While Elaine served as their primary faculty support, Student Ambassadors also leaned on other faculty members within the school, including Equity and Belonging Director, Michelle Jones. She said, "I want to thank them for even proposing a project like this. To see the growth was not only inspiring, but I saw them use our norms that we have established on campus in regular conversation."
Michelle went on to congratulate them on what they accomplished this school year. "I want to commend them on not only their efforts but how they rolled out every part of it as if they had a blueprint from the beginning. Elaine and I tried really hard not to interject ourselves into every dilemma or problem and it was refreshing for us as faculty. I think it was professional growth for us as well."
3. Student Ambassador Outcomes
Student Ambassadors developed skills in the following areas:
Negotiation: Elaine shared, "In the beginning, they wanted to educate the middle school community about racism, bias, and microaggressions. Then, they realized that they needed help and they decided that they should have a BBIPOC Affinity Group like the upper schoolers have, so they could have the help of their friends to educate the middle school community. But, after the first meeting, and surveying other students of color, they realized that what they needed was a place and time held for these students to chill out and share experiences."
Communication: Student Ambassadors consulted with Rocky Hill's Equity and Belonging directors as well as the upper school students who organize the BBIPOC Affinity Group to get ideas for their meetings. They wrote an email to the middle school division head to get the authorization to run the meetings during office hours. Additionally, the students used strategies (e.g. posters, announcements at assemblies, etc.) to invite other students of color to the meetings.
Organization: Despite facing a very tight school schedule, Student Ambassadors planned all of the BBIPOC Affinity Group meetings until the end of the school year.
Leadership: Student Ambassadors took charge of this program – from planning to implementation. They have become true leaders at Rocky Hill.
"Now I feel this is crazy because next year there will be a whole section dedicated to the BBIPOC group."

– K, Student Ambassador
2023 and Beyond…!
The students want to participate in the Student Ambassador Program again and continue to organize the BBIPOC Affinity Group meetings. They observed steady growth in participation throughout the school year and hope to continue that into next school year. They also shared that their efforts were rewarded with a specific block of time being carved into the school schedule for their meetings next year!
Although their impact so far is local, their aspirations are global.
"I feel that this is only the beginning."

– Elaine Bernardino, Global Citizenship Student Ambassador Coordinator