Celebrate Lunar New Year in Your Classroom – Year of the Tiger!
Lunar New Year is a traditional festival celebrated every year in China at the start of the year. It is also called Spring Festival or 'Chinese New Year'. As a Lunar Festival, the date changes each year depending on the Lunar Calendar and this year it is year starts on February 1st. The festival is one of the largest and most important festivals in Chinese culture. It is an important time to spend with family and, like all festivals, has special foods to eat and activities that are done during the festival.
The festival is celebrated by the Chinese community around the world but also communities across South East Asia. Chinese people refer to it as Chinese New Year, but other Asian cultures that also celebrate it, refer to it as Lunar New Year. No matter what it is called, it is a holiday to spend with family and look ahead to the New Year for everyone.
The festival is strongly linked to the concept of the Chinese Zodiac and it's 12 Animals and 5 Elements. Each year the year is dedicated to a different animal and rotates which of the 5 elements it is. This year it is Year of the Tiger, but it is a Water Tiger. In 12 years time when it is Year of the Tiger again, it will be a 'Wood Tiger'. Find out more about what 'Year of the Tiger' actually is.
We've compiled some fun activities for different age groups for you to choose from and adapt for your students. Please explore and enjoy learning more about, and celebrating, this global festival with your class.
You may also wish to learn more about the story behind the Chinese Zodiac's 12 Animals in The Great Race.
And discover a different story linked to the Chinese Zodiac of how the Tiger replaced the Lion in the Chinese Zodiac.
Global Learning Activity Cards – Chinese Culture
Explore additional activities linked to Chinese culture with our ever-growing range of fun, cross curricular activities for all ages, from Prep to High School. Explore here.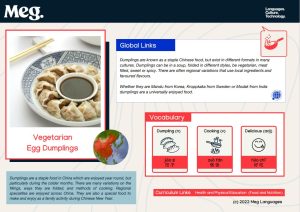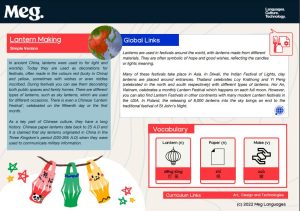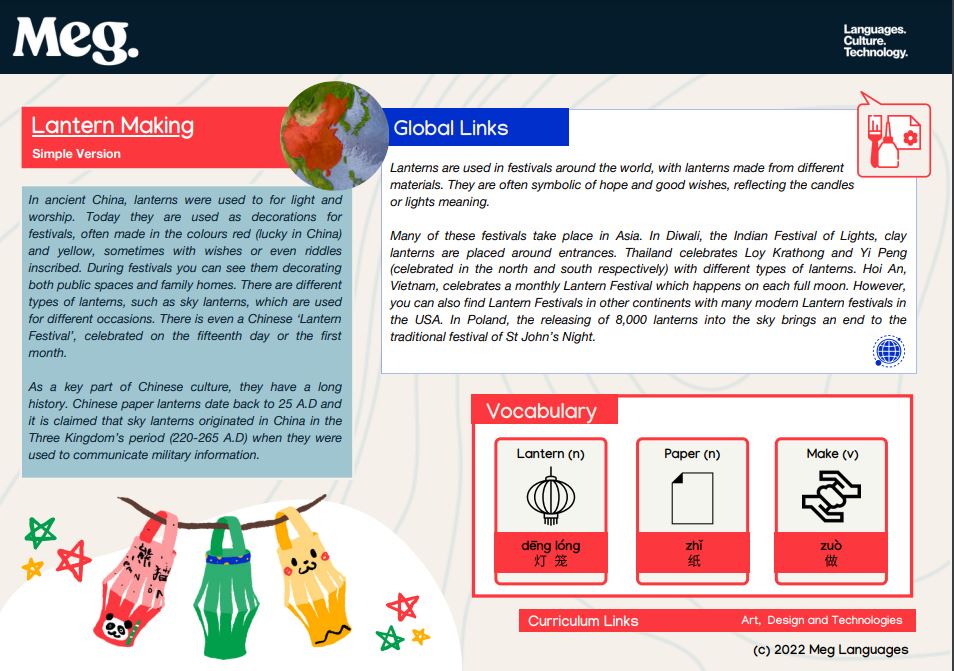 We hope you enjoy learning about and celebrating Chinese New Year with your students and building their global awareness with these fun activities. We love seeing you and your students engage with global learning, so share some photos on social media and tag us so we can share! @MegGlobalEd