Classroom Teacher of the Month – May 2023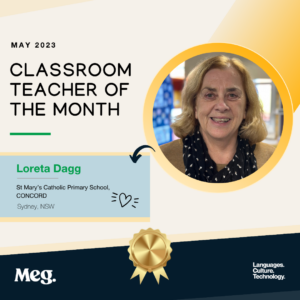 At Meg Languages, the success of our World Language and Culture Program relies on the enthusiasm and support of our partner classroom teachers. We want to celebrate those individuals who go above and beyond in ensuring the effectiveness of our program and encouraging students to think globally.
This month, our Teacher of the Month honoree is Loreta Dagg from St Mary's Catholic Primary School, CONCORD! We asked Loreta a few questions about her experience with our program and her personal background.
See the full interview down below!
Meg: How many years have you been teaching?
Loreta Dagg: I started teaching 50 years ago.
Meg: What was your favourite subject at school?
LD: English
Meg: What's your favourite movie/book/show?
LD: I loved the book "A Gentleman in Moscow". There are too many movies that I've liked, just NO scary ones! I love musical shows, "Chicago" was a favourite.
Meg: What is your favourite food?
LD: Seafood, while sitting watching the ocean.
Meg: If you weren't a teacher, what do you think you'd be doing?
LD: I once thought owning a book shop would be nice.
Meg: What is your ideal vacation?
LD: Sightseeing and sunshine.
Meg: What's the best teaching advice you can give?
LD: Share your enthusiasm in the classroom, listen to your students, show you care.
Meg: If you could travel to any country, where would it be?
LD: Now I'd like to visit Colombia I think.
Meg: When you have a day off school, what's your favourite way to spend it?
LD: Relaxing with friends and family, reading.
Meg: What's a fun fact about yourself?
LD: I've looked at New York city through the crown of the Statue of Liberty! Wouldn't be allowed to do that now!