Improving our School Environment By Tackling Waste – St Mary of the Angels Primary School Case Study

The focus of the program about advocating for positive change and building or re-establishing community connections was critically important to help our students to bounce back from the setbacks of the Covid-19 Pandemic."

– Tiffany Martin and Casey Lennon, Global Citizenship School Coordinators
St Mary of the Angels Primary School is a small, rural Catholic school situated in Northern NSW in the town of Guyra. It's  school values reflect the importance of demonstrating love and concern for each individual of the community and developing each child spiritually, morally, emotionally, academically and physically to the individuals potential,. The Meg Going Global Global Citizenship Student Ambassador Program supported these values, aiming to improve the school environment, by decreasing rubbish and by educating the community around waste issues, including the importance of 'nude food'. Through working with their own school community, including school leadership, and reaching out to their local council, they implemented an action program which started with a school and school community education program to achieve their aims.  
Outcomes:
Redesigning the school rubbish and recycling systems, reducing rubbish left around the school grounds

Successfully convinced the local council to resume recycling pick ups from the school and organised the process including new signage needed

Introducing a 'nude food' approach for school lunchboxes, reducing waste

Designing and implementing education programs for both school rubbish and 'nude food'
St Mary of the Angels Primary School have a student enrolment of 91 students from Kindergarten to Year 6 and a dedicated team of staff who help to provide the best learning opportunities for students to match the school's motto of 'Strive Ever Higher'. St Mary of the Angels commenced learning Chinese with the Meg Languages Program in 2022 and were then introduced to the Global Citizenship Ambassadors Program. They decided to participate in the program as a way for the Year 6 students to have stronger student voice in the school and to develop their leadership skills. 
Project description
The Student Ambassadors identified their initial problem of too much rubbish in the school.  They aimed to improve the school recycling and rubbish systems within the school before they planned to move on to the town to make a larger impact.
To address this problem they needed to work with school leadership to create behavioural changes across the whole school so that rubbish was no longer a problem. They intended to address the rubbish problem by first creating a whole school education program about recycling and waste reduction, then moving onto buying colour coded bins for the classrooms and playground. The school was not getting recycling picked up by the local council, and so all items that could have been recycled were being put into the rubbish bins. The Ambassadors planned to reach out to the local council for assistance with their project and to lobby them to resume the recycling pick up service from the school. They planned to also involve parents as part of the final stage of their project, which was the encouragement of 'nude food' in student lunchboxes.
Step 1: Bins
When looking to purchase the right rubbish and recycling bins, the Student Ambassadors needed to research the bins on their quality and durability, find the costing of the bins and talk with Principal about costs and choices. They then needed to buy the bins and install them in all classrooms and the playground. Due to being in a rural location, finding the right bins and where to source them took some time and online researching. To improve the council's support they wrote a letter to the council with the aim to increase the rubbish and recycling bins collections from their school, in which they were successful. As part of this process, they needed to also organise suitable signage for the council trucks to pick up the recycling from.  
Step 2: Education program
To develop the education program they first needed to create the waste reduction program, including it's aims. Next, as the first stage of the education program, they aimed to share the program with classroom teachers and students, including what behavioural changes they were requesting from everyone. Lastly needed to implement the program as all parties would have now been educated about the program, and should know about the new behavioural requirements around waste disposal, including the reasons why it is important.
Step 3: Nude food
In the next phase of the project, they aimed to introduce the idea of 'nude food for lunch boxes' to reduce waste coming to school so there was less of it to recycle or send to landfill. To introduce nude food  lunchboxes they first needed to research the concept and talk with their school Principal and teachers about the proposal They planned to inform parents about this in the school newsletter and at school events. They also needed to patiently and repeatedly encourage parents and students to adopt this change.
As part of the knowledge exploration on topics linked to Global Citizenship Education, the students learnt about the UN Sustainable Development Goals and identified the following goals linking to their own project:
11: Sustainable cities and communities:

Reducing rubbish in our school is the main aim

12: Responsible consumption and production: Aiming to educate the school community to

reduce, reuse and recycle to minimise the amount of waste produced

13: Climate Action:

By reducing rubbish, they minimise the carbon footprint which is part of climate action.

14: Life below Water: By reducing rubbish, they minimise the amount of waste ending up in water-ways

15: Life on Land:

Having less rubbish returns the land to a more natural environment, which supports animal and plant life

17.

Partnerships for the Goals: By partnering with students, parents, staff and wider community organisations and businesses, the project became more inclusive and was amplified to impact more people.
These also link to the related Good Life Goals: Goals 2: Eat Better, Goal: 8 Do good work (support local!), Goal 12: Live better, Goal 13: Act on Climate, Goal 14: Clean our seas, Goal 15: Love nature, Goal 17: Come Together
Implementation phase
Informing and educating others
The first step was to inform the school community about the project and then use various communication channels to implement the education program the Student Ambassadors had designed for their school waste program.  Through targeted audience identification, students used a variety of strategies to reach their target audiences: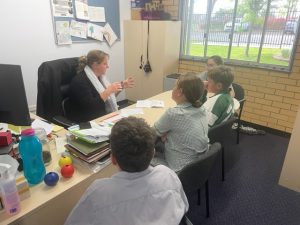 Students and Staff: The Ambassadors' education program used posters around the school and announcements at school assembly.
School community (staff, parents): School website, school social media channels e.g. Facebook and school newsletter.
Wider school and local community: A piece will appear in the local newspaper, The

Guyra Gazette

,

in December 2022. Social media posts are also being made to be shared at the start of 2023 to remind the staff, parents and students of the goals and aims of the project and how everyone can help out and take part e.g. preparing nude food for lunchboxes
Involving others
The Ambassador's peers were invited to take an active part in the education program by designing posters around the importance of reducing, reusing and recycling, which were put up around the school.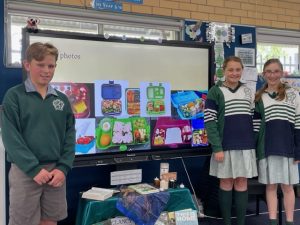 Staff, who had received the education program themselves from the Student Ambassadors, facilitated the program in classrooms. Parents, who received the education program via school newsletters, social media and attendance at school assemblies, started to take part in reducing waste going to school through contributing to 'nude food' for their children's lunchboxes.
The local council was successfully contacted by the Student Ambassadors and asked to resume the weekly recycling collections, which the students saw as an important way for their local council to help support the work of their youth to create a better and healthier environment. The council agreed and resumed this service, asking the students and staff to be vigilant with their sorting processes to help the service complete their job too. They also invited the Ambassadors on an excursion to their local waste collection depots to see how waste and recycling is managed, which will be implemented in 2023.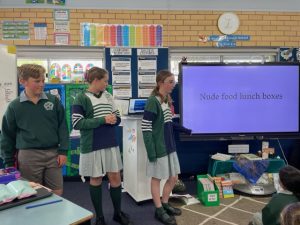 Throughout the implementation phase, the project stayed fairly similar to the original project plan and aims.  It did, however, face many challenge as the project was developed and implemented but these were addressed and solved by the Student Ambassadors using a range of skills including creativity, problem solving and critical thinking skills, so the project could continue as planned and achieve it's original aims.
"Throughout this year, I have been able to work with a group of students to learn about making a change within our school. The project that the students developed to improve recycling has seen students make better choices when throwing out their rubbish and also to help our citizens to become better school leaders. These students have been able to develop their skills in leadership, communication and teamwork to support their project. We hope that their work continues in the following years as they move onto High School."

– Casey Lennon
Project outcomes
The school community adopted the Student Ambassador's proposed recycling program with a positive outlook. Classroom teachers all installed the new colour coded bins and supported students to start to use them correctly. All classes took part in the education program and benefited in a number of ways; by having a better school environment with less waste, and, through a school wide understanding, saw that Student Voice was both recognised and valued at their school. They also, alongside their parents, developed an increased understanding of waste issues and reducing, reusing and recycling processes. After receiving their own education around the issues as part of the program education program, some parents made distinct behavioural changes around the items packed in students lunchboxes. The Student Ambassadors hope for both a continuation of this and an increased uptake in this waste reduction behaviour. 

Educators also benefitted by being exposed to the ideas of Students as Changemakers and the impact and success they can have as active and engaged Global Citizens. They observed a real example of Student Voice and Agency in action, with clear success for not only the Student Ambassadors, but for all impacted by the project's successes.
The Ambassadors developed a range of leadership skills alongside the ideas and skills of Changemaking, which, they hope, may lead to future changes in their wider community. Students involved in the project needed to use a wide range of skills both both the project design and the implementation phases. Their accompanying educators, Tiffany Martin and Casey Lennon, observed and identified their use and growth in the following skills:
Teamwork and collaboration
Communication with students, staff and wider school community
Project planning and implementation e.g. consistent meeting and liaising with the School Principal and other school's involved in the program
Change in thinking and practices to those already in place at school
Leadership
It has been a real pleasure to participate alongside our Global Citizenship Ambassadors from Year 6 this year. We didn't really know what we were to expect from the program as we initially signed up, but quickly determined how important this was for not only the learning and development of the students involved but also for the benefit and ongoing progress of our school environment to build a more sustainable place to live. The regular meetings helped students to stay engaged and involved in the program and it was a blessing to be able to work with these students and watch them grow and develop their skills they picked up along the way.

Our students have developed such pride in the school program that they have put into action here at St Mary of the Angels and are looking forward to the future to train other capable students to continue their legacy and plan. Our students have developed greater confidence in teamwork and public speaking by being involved in this project and have become more aware about sustainability and inclusion which are critical in the world today. Each student has shown great problem solving skills to overcome minor challenges and setbacks throughout the program. All of the skills that our students have developed this year will set them up for great success in High School and their future life."
– Tiffany Martin, Global Citizenship School Coordinator
Project alignment to school and state curriculum
Involvement in the Global Citizenship Ambassadors program has allowed students to learn more about content in the Geography, PDHPE, English curriculum and especially the sustainability focus in the cross curriculum priorities. Students also were able to align their planning and work with the Catholic values from their Diocese, being 'Stewards of God's Creation' and respond to the 'Call of our Community'. It was particularly strong in its development of youth leadership skills and in assisting students with their confidence in public speaking, liaising with other staff and communities and forging effective teamwork skills.
Geography Curriculum Outcomes
GE1-2 identifies ways in which people interact with and care for places

GE2-2 describes the ways people, places and environments interact

GE3-2 explains interactions and connections between people, places and environments
PDHPE Curriculum Outcomes
Health & Wellbeing Strand

PDe-3 communicates ways to be caring, inclusive and respectful of others

PD1-3 recognises and describes the qualities that enhance inclusive and respectful relationships

PD2-3 explains how empathy, inclusion and respect can positively influence relationships

PD2-9 demonstrates self-management skills to respond to their own and others' actions

PD3-3 evaluates the impact of empathy, inclusion and respect on themselves and others

PD3-10 selects and uses interpersonal skills to interact respectfully with others to promote inclusion and build connections
English Curriculum Outcomes
EN3-1A communicates effectively for a variety of audiences and purposes using increasingly challenging topics, ideas, issues and language forms and features

EN3-7C thinks imaginatively, creatively, interpretively and critically about information and ideas and identifies connections between texts when responding to and composing texts
 2023 and beyond – next steps
The Student Ambassadors have identified several 'next steps', especially around community and local outreach for the program.
They would like to extend the impact and amplify their program to their local community, by leveraging local media sources, such as the Guyra Gazette and plan to reach out to these sources in 2023.
They also want to contact their local parliament member, Adam Marshall, to inform him about their project and invite him to come and see their work.
They also hope to have further involvement of local businesses and organisations, through educating them about the project aims and the importance of reducing waste. The Student Ambassadors believe these business and organisations may be able to assist with further donations and support of their project. The local library was identified as a possible location for further education plans and the students aim to reach out to them.
They wish to ask for feedback from their local community, inviting letters to be posted to school, creating a wider inclusion for the project by letting the community both give feedback on the project but also be part of the project.
The Student Ambassadors' aims for the project in 2022 was to introduce the program into their school and then aim for future students and staff to help assist with the maintaining of this project in 2023 and beyond.
"Now I feel like we have made a big difference in our school and we have made a change that will continue to work for years to come."

Camilla, 2022 Global Citizenship Ambassador