The Day of the Dead – Six spooky ways to celebrate
The Day of the Dead is one of the most famous traditions from Latin America. Find out more about this holiday and six fun ways you can celebrate it with your students.
What is The Day of the Dead?
The Day of the Dead, or Día de los Muertos, is a celebration of life which has been around for almost 3000 years. Like many modern festivals, it is the result of a combination of different cultures – in this case: Mesoamerican traditions and Catholic celebrations. Aztecs used to carry out rituals to help deceased members of their family in their journey through the "underworld", while Catholics commemorated All Saints and All Souls Days. Due to the interactions between these two communities and the fusion of their cultures, The Day of the Dead has flourished into a unique holiday that is celebrated across Latin America and the US.
How is it celebrated?
Festivities and gatherings take place across two days: November 1st and 2nd which correspond to Day of the Children and Day of the Dead. At midnight on October 31st, children are allowed out of heaven/underworld to visit their families for 24 hours. Then, on November 2nd adults come back from the Land of the Dead to celebrate with their loved ones.
The Day of the Dead includes parades where the community dress up like skeletons, or Catrinas, and wear colourful masks and clothes. In addition to parades, families create Ofrendas (alters) at home. Another way to celebrate is by visiting the cemetery, decorating gravesites with flowers, candles and food. The main purpose of Ofrendas and visiting the cemeteries is to remember loved ones and celebrate their lives.
Activities to celebrate The Day of the Dead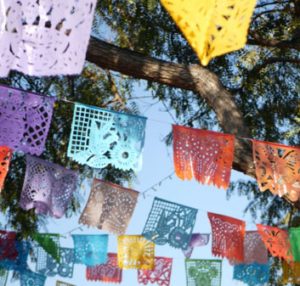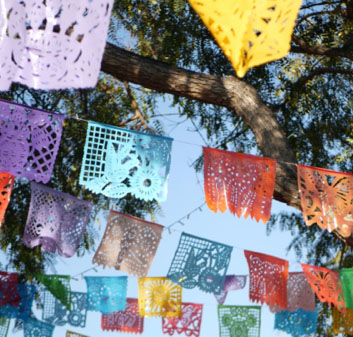 1. Papel Picado
Papel picado are colourful paper-cutting decorations hung during all Mexican celebrations. For The Day of the Dead papel picado are usually vibrant pink, orange and purple.
Watch this video to find out how to make these decorations and create your own Papel Picado to decorate your classroom.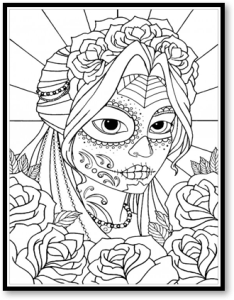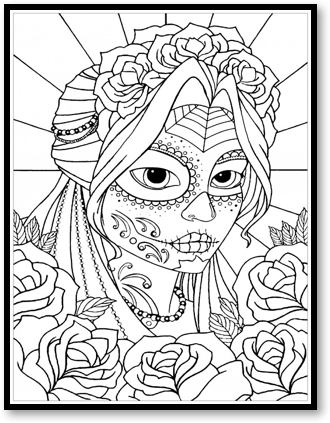 2. Catrina Drawing / Make up
Catrinas are closely linked to The Day of the Dead and Mexican culture. Catrinas are skeleton ladies dressed in 20th century dresses and hats. Over time the image of a Catrina started to represent the goddess of the underworld, and became part of the celebration of The Day of the Dead.
Students can design their own Catrina face and have a gallery to show their work. If you are feeling creative, follow the instructions in this make up tutorial video. Create your own designs and students can then take part in a parade in the classroom or school.
3. Learn about this holiday through films
Films are a great way to explore The Day of the Dead. For students between the ages of 5 – 10, Supermonstruos, Día de Muertos and Coco are good starting points. For upper primary and high school, The Book of Life, might be more interesting. All these films show how the Day of the Dead is about remembering and honouring loved ones while they are travelling through the afterlife.
You can also set up pre-viewing tasks and questions to encourage intercultural understanding, such as: What do you think Day of the Dead is about? Do you celebrate The Day of the Dead in your community? How do you honour/remember your ancestors? Encourage your students to find common ground between holidays, beliefs and traditions around life, death and family.
4. Ofrendas
Ofrendas are home-made altars, decorated with flowers and images of the deceased with their favourite foods and objects, that allow families to remember their loved ones and honour them.
Create your own Ofrenda with your students. Encourage them to think about those who are not with them anymore. Students can decorate their Ofrenda and add it to a small Ofrenda space in your
classroom, which includes photos, objects or flowers.
5. ¡Mi Alebrije!
Alebrijes are papier-mâché colourful statues in the shape of animals. These creatures are believed to be guardians or companions in the afterlife. Encourage your students to create their own Alebrijes.
They can either draw or create them with playdough or clay. Watch instructions on How to Make An Alebrije With Clay.
6. The Day of the Dead Foods
The Day of the Dead is very famous for its food. Gather with your students and the community to make sweets, bread and spicy dark chocolate. Follow the recipe for sweet skulls, Pan de muertos (bread of the dead) and spicy dark chocolate recipes. Share your creations and foods from your community/country and celebrate in the best way – eating!
¡Feliz Día de muertos!  Happy Day of the Dead!
Note: Dealing with death has different meanings, taboos and beliefs in different cultures. Ensure that you are fully aware of your students' and their family's beliefs before you broach the subject of death.
Global Learning Activity Cards – Hispanic Culture
Explore a range of additional activities linked to Hispanic culture with our ever-growing range of fun, cross curricular activities for all ages, from Prep to High School. From cooking, to arts, to making Maracas for music, there are activities for everyone!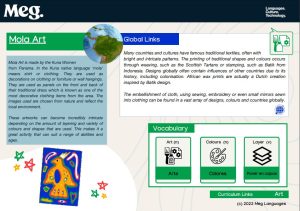 Read Tips for Celebrating a Fun and Festive Dia de los Muertos at Home for more ideas!
28 October 2020 | Written by Paula Jiménez
Paula Jiménez is the Program Coordinator and Curriculum Designer of the Spanish Program at Meg. She has been teaching English and Spanish to students from Colombia and Australia for over five years. She is passionate about languages, culture, and communication in context, which led her to complete a Master program in Applied Linguistics. Her interests include intercultural communication, cultural linguistics, and the greater role that technology has in education. She can be found at Paula Jiménez.