Thanksgiving – Through a Global Lens
Array
History and the Modern Holiday
Every 4th Thursday of November, the Thanksgiving holiday is celebrated across the United States. While Thanksgiving Day was declared a national holiday in 1863 by then President Abraham Lincoln, its roots go far beyond this date and time and carry with it some challenging truths. We acknowledge that Thanksgiving has a challenging history. The way the holiday is often presented inaccurately implies a healthy relationship between the Pilgrims and the Wampanoag people, overshadowing the tumultuous conflicts between colonists and Native American people throughout history. To learn more about the history of the holiday, you can visit History.com or this Smithsonian Magazine article.
Over the years, the focus has turned toward gathering with loved ones and demonstrating gratitude for the good things we share in our lives. Travel in the U.S. is at an all-time high during this week of November, as throngs of people hit the highways and airports to visit extended family and friends. In a typical American household, it is pretty common to spend hours – even days – preparing festive foods including turkey, mashed potatoes, green bean casserole, pumpkin pie, and pretty much any other family favorite you can think of. We watch the Macy's Thanksgiving Day Parade and enjoy football games (the American variety!) while eating for what feels like days on end. It is one of my favorite times of year and I always look forward to celebrating it with the people I love.
Thanksgiving Abroad
In Fall 2005, when I was a student in Firenze, Italy, I found myself approaching that Thanksgiving time of year and wondering how I would celebrate this favorite festival without what I had grown to know. Surrounded by other American students and some incredibly kind Italian restaurateurs, we put together our own Thanksgiving feast – realizing that all you really ever need – regardless of the time of year – is good food and friends.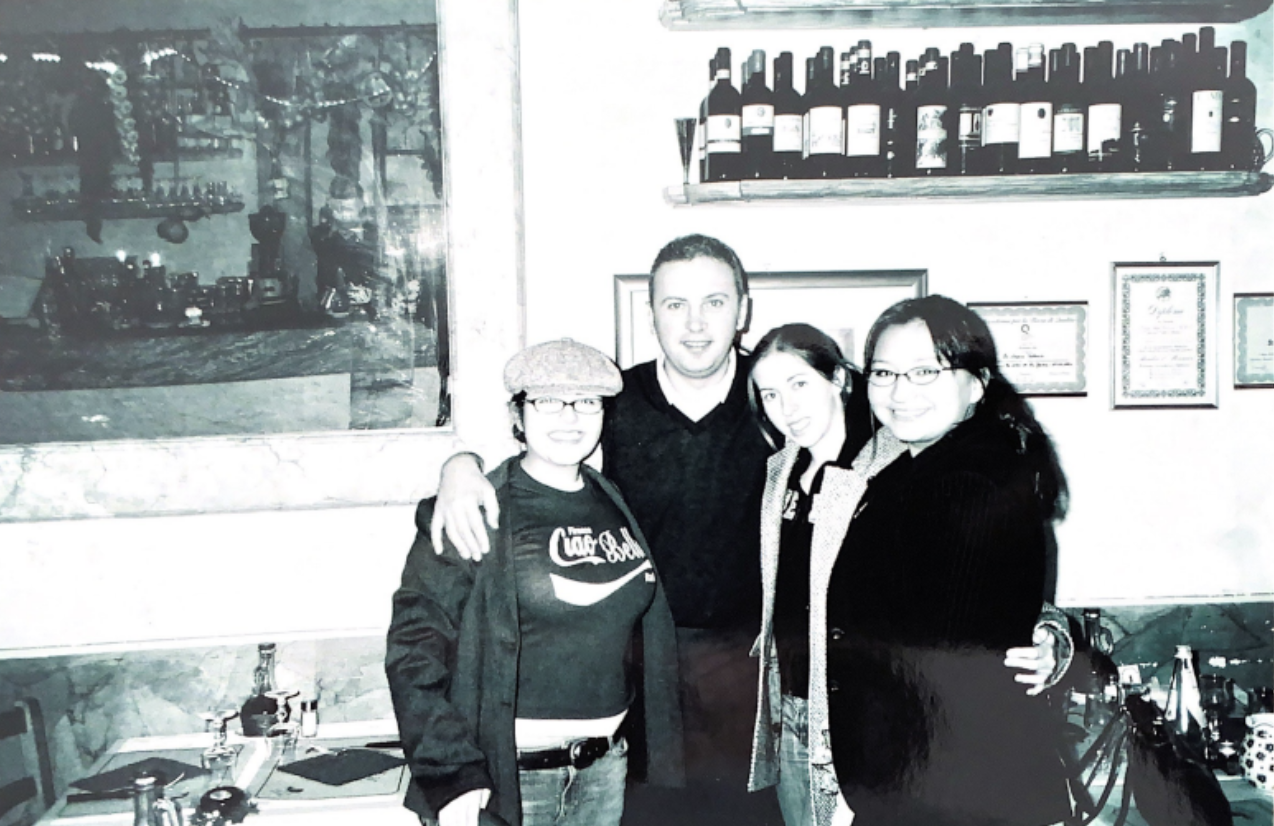 L to R: Emily with "Il Porcospino" manager Franco and study abroad roommates Dana and Alessi. Franco worked with us to create the perfect Thanksgiving away from home. Fall 2005.
As I reflect on my own experience, we here at Meg wanted to take a look at Harvest Festivals around the world to explore, compare and contrast how we celebrate harvest time!
Harvest Festivals Around the World
• Mid-Autumn Festival (China) – Just recently many members of the Meg team celebrated Mid-Autumn Festival in China! This festival is celebrated on every 8th Month of the lunar calendar and centers around the full moon, festive foods, and activities.
• Jour de l'Action de Grâce (Canada) – This Canadian holiday is very similar to the Thanksgiving Day celebrated in the United States. It is typically held on the second Monday of October and celebrates the harvest and other bountiful blessings the year has brought. (Reference: How Thanksgiving in Canada Is Different From the United States)
• National Thanksgiving Day (Liberia) – The holiday takes place in early November and has largely developed into a religious holiday on which churches auction off baskets of local fruits for families. They also eat spicy roast chicken and mashed cassava while enjoying music and dancing to celebrate the festival. (Reference: Thanksgiving Day: Liberia)
• Erntedankfest (Germany) – Erntedankfest means 'The Harvest of Thanks'. It is a religious holiday that usually takes place on the first Sunday of October. The harvest festival usually includes a parade, elaborate decorations, and of course, delicious food. (Reference: Erntedank: Thanksgiving in Germany)
• Kinro Kansha no Hi (Japan) – 'Labor Thanksgiving Day' or Kinro Kansha no Hi is celebrated in late November. It has evolved from an ancient rice festival called Niinamesai into a national holiday where "labor organizations lead events at which citizens are encouraged to celebrate the principles of hard work and community involvement" (Reference: 8 Thanksgiving Celebrations Around the World) by writing thank you cards for municipal leaders and other community helpers.
These are only just a handful of Thanksgiving and Harvest Festivals that are celebrated in other countries, so we encourage you to do some research and learn about similar celebrations around the world!
And most importantly, we wish you all a happy and healthy holiday season.