Celebrate Little Candles Day in your Classroom
Little Candles Day is a traditional festival celebrated in Colombia on December 8th each year. The origins of the festival mark the Immaculate Conception in the Christian nativity story and herald the beginning of the Christmas season. Nowadays it is known for it's festive lights and candles that adorn the streets, windows and parks everywhere. The festivities are known as a reminder to be hopeful and grateful as we enter the Christian festive season.
Christmas around the world is celebrated in different ways. For instance, Colombians have Novenas (nine days), these are gatherings with friends or relatives that take place from December 16th to 24th; people get together to cook, eat, dance, listen to music and sing Christmas carols. Consider how these are different or similar to the family traditions or community traditions that take place during your Holiday season. Consider which elements in Day of the Little Candles are similar or different to your own or others' Christmas celebrations.
We've compiled some fun activities for different age groups for you to follow, choose from and adapt for your students. Please explore and enjoy learning more about, and celebrating, this global festival!
Global Learning Activity Cards – Hispanic Culture
Explore additional activities linked to Hispanic culture with our ever-growing range of fun, cross curricular activities for all ages, from Prep to High School. Explore here.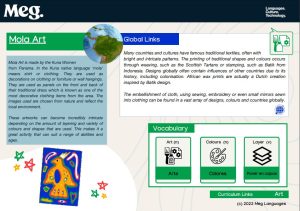 We hope you enjoy learning about and celebrating Little Candles Day with your students and building their global awareness with these fun activities. We love seeing you and your students engage with global learning, so share some photos on social media and tag us for us to share! @MegGlobalEd